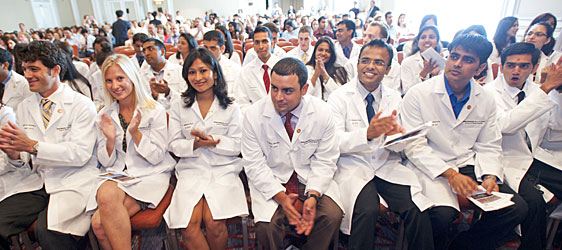 Dental School Requirements:
What skills do I need to become a dental assistant?
Deciding on one of the dental assistant schools out there can sometimes be very stressful. There are so many schools, that it's almost impossible to choose the right one. Luckily, this article is going to offer you the tips for choosing your dental school wisely. Just remember that going into dental school is one of the things that require you to be dental oriented or else you will lose more than you'll gain.

What skills do I need to become a dental assistant?

First of all, you must have strong communication skills and be able to connect with people. Although you are helping the dentist perform different actions on the patient, you will also deal with patients directly. That means you have to be calm, open and always smiling, especially with those patients who fear any medical intervention or checkup.

You also have to be a very organized person. A dental assistant keeps track of medical treatment of all the patients, makes appointments and talks to patients about billing and payment methods. If you lack the organizational skills, you could mix up the patients' treatment, forget to collect payments, mix patients' files etc.
This can lead to a patient being treated for a condition that she or he does not have.
Listening skills are of high importance as well. Patients that come inside the office will communicate to you what has been bothering them and you should be able to listen carefully in order to let the dentist know what the problem is or what treatment the patient should get. At the same time, since you will be the one to help the dentist, listening skills are required for good coordination.

It would be best for you to have some financial skills, because you will have to effectively make the bills and make sure you get the payment needed.

How to become a dental assistant and what will I learn in dental assistant schools?

In order to become a dental assistant, you will have to follow the courses of one of the many dental assistant schools in the country. These courses can take place in a community college and will last about 1 year. There are also numerous online dental assistant programs that you can follow.
In both cases, you will study theory, but you will also have your fair share of practice done in an office, equipped with everything a dental assistant needs. While it is very important to study hard and do your assignments on time, it is also extremely important to be alert during practice time, to get the most of it, since your final exam will have theory and practice included.

Previous to that, in high school you will have to take math, chemistry, biology and anatomy. It is very important to have basic knowledge about these sciences before you decide to go to any dental assistant school.
Depending on the state you are in, you will be asked to finish accredited courses and then pass the exam to become a licensed dental assistant. The exam has two parts: theory and practice. If you fail the exam, you will have to wait 90 days to try again. If you have failed the exam 3 times, your waiting time goes up to 12 months.

What will I do as a dental assistant?

Dental assistant schools offer you the opportunity to put into practice the things you have learnt in theory, but the best time to actually do your work is after graduation, in an office. Here, you will be able to put to good use all those skills you learnt, by doing things like:
Performing x-rays
Keeping records of patient's treatment
Sterilizing dental material
Making sure the patients are prepared and comfortable for any procedures
Removing sutures
Instructing patients regarding dental hygiene
Making appointments
Billing patients and getting payments
Assisting the dentist with different tasks
Dental assistant schools will get you ready for all the jobs you need to do. After graduation it is up to you to remember all that you were taught and put it to good use. Dental assistant schools can be found in all the states, but, as already mentioned, you can also follow online dental assistant programs.For the application and acceptance requirements, look online for dental assistant schools near you. These things are not universal and some schools ask for different things.